Velkommen til trenduniverset 'pej kids'.
pej kids 2022 – 2024 giver dig de kommende års trends og farver til den skandinaviske familie og børneforbruger. pej gruppens børnetrendbog er målrettet fremtidens babyer, tumlinger, børn, teenagere og familier – i alt fra produktudvikling og emballagedesign, til markedsføring af dine nye børnekollektioner.
I dette lille uddrag gives en beskrivelse af de tre børnefamilier, der er kernen og strukturen i bogen: Fokuseret familie, balanceret familie og forbundet familie.
Focused family
A couple of years ago, most Scandinavian families had a very tight daily schedule. It was the norm to have a daily agenda that was focused on combining full time jobs, careers and an active family life. Everything was coordinated and structured through extensive weekly planning, joint family calendars, help from friends, family, or helpers. The vast number of activities outside the home combined with a focus on creating a balanced everyday life made everyday life difficult. A lot of parents were longing for a freer life, but they did not know how and where to make the changes to achieve this.
Then, Covid-19 showed up, and families were forced to stay home and spend time together. Many experts were predicting divorces and family break ups because of this situation. But what happened was a different story. A lot of families found the solution to their problem; a more relaxed and free life with a strong focus on the family and not on what happened outside the home. The baby boom in Scandinavia, which was initiated by the arrival of Covid-19, shows that many people are nurturing the family values.
In future family types, we will see a shift in the way that some families live their life. Some families have taken drastic decisions to be able to still live a life where the family is the main focus, and where work and activities outside the home are downgraded.
We are also seeing more families with reduced working hours, and much more time dedicated to the children – focusing on their personal, social, physical, academic education. The mother or the father may even be a 'stay-at-home'-parent focusing on bringing up the kids and assisting them with home schooling. These families are leaving the city and moving to the countryside where it is possible to be self-sufficient and where the housing prices are better suited to a lower income. They are also bringing down their spending as much as possible by buying things that are repurposed.
There is a general focus on being as sustainable as possible, not just because of the influence on the environment, but also because of the need to preserve what is already available and to avoid buying new things. The reduction in the economy in these families is an important reason for choosing long-lasting solutions. A mindset of not being controlled by material goods is finding a foothold with these family types. This family type focuses on this minimalistic kind of living because being too materialistic can take focus away from the most important things in life, which are our family values.
The closest relations are the most important aspect for people in the Focused family.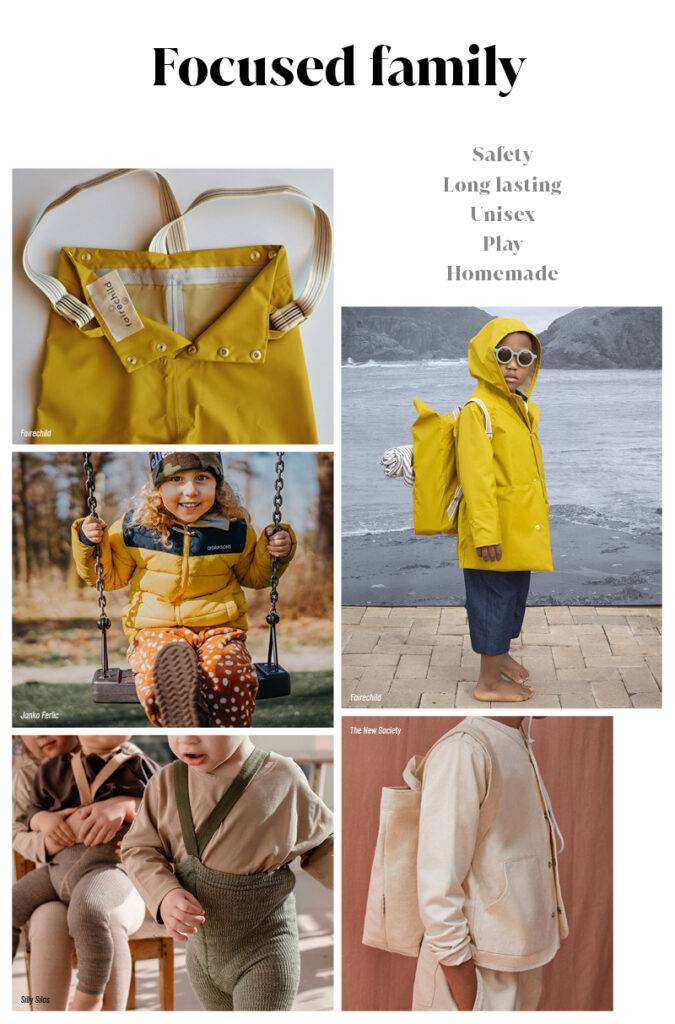 Balanced family
Joining a Zoom or Teams meeting with a kid running around in the background is something that has become normal due to lockdowns. Many companies have been forced to be more flexible with home office workstations. And a lot of these companies have become aware of the fact that many employees are more efficient at home, where they are able to live a more flexible life. Consequently, we will see many companies that will continue to provide flexible work-from-home-solutions.
This scenario has had an enormous effect on the family life. Many parents have established a better work-life-balance with small kids on the lab in front of the computer and at the same time managing home schooling of older kids. In many ways, this has not been the most optimal solution. But it has made a new mindset grow: It is possible to live a life where you can be a more flexible parent, if you have a job that you can manage from your own home.
In the future, we will see a family structure where parents will work from home, whenever possible. The parents are more flexible, and they can pick up their kids earlier from day care or school. If the kids are big enough to go home from school themselves, they will have a parent to talk with when they come home.
This will lead to a family type with high-educated and ambitious parents who are always there for the kids – and for some families this is the ultimate combination. The parents can fulfil the kids' need of comfort and support in the everyday life and not only before 7.00 am and after 5.00 pm.
The household income is still the same as both parents are working and therefore, there are opportunities to buy things that are not necessarily needed but are aesthetically pleasing or creates a unique feeling. The parents are very fascinated by design and details, which have a positive effect on the kids – both the smaller ones, but also the older kids who are becoming more aware of style and brands. This does not mean that there will be a lack of focus on sustainability. The new luxury is still sustainability and therefore, a lot of people will gladly pay more for the right stylish brand if it holds a sustainability perspective.
Style and a hybrid lifestyle are the essence of the Balanced family.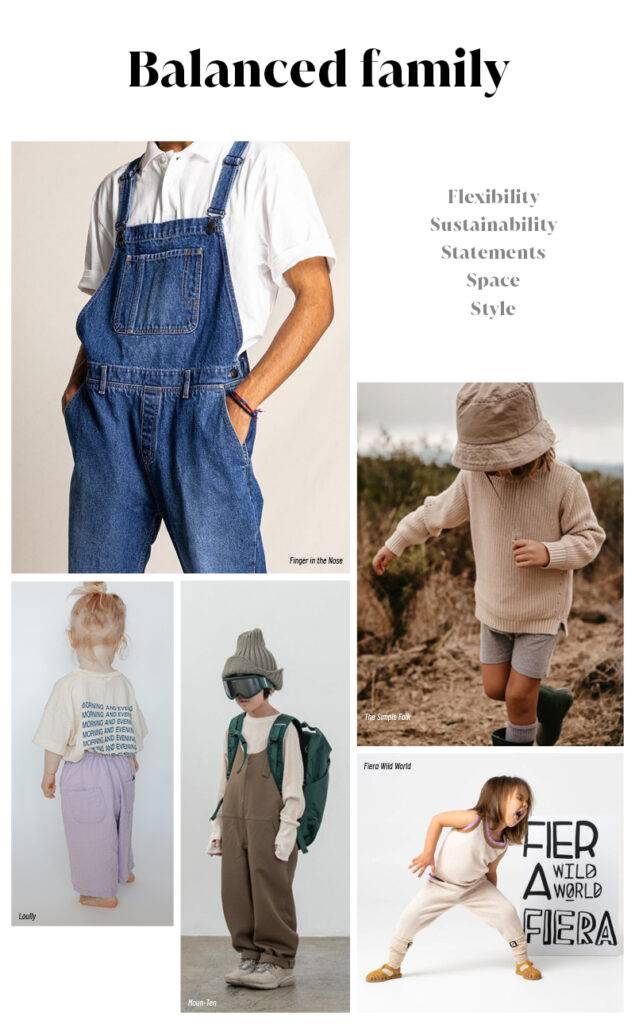 Connected family
For many people, Covid-19 was a wake-up call with regards to being more aware of other generations' needs. To be able to take care of each other and spend time together is not something new if you look at it from a historical or cultural perspective. However, it is something that many people in Scandinavia have forgotten through the years. Many expecting or new parents could not see their closest family during Covid-19 meaning that they could not 'share' the experience of becoming parents. At the same time, the elderly in most families were isolated and lost contact with family members. During the lockdowns and restrictions, the importance of blood relatives and kinship became very clear – for all generations.
Consequently, many people will be breaking down the geographical boundaries – allowing the original family structures and support systems to come back. In the future, we will see more families living closer to each other, if not together, and taking care of each other across generations.
It will become more normal to live under the same roof as the grandparents or to live just around the corner from them. Many parents want to give their kids an upbringing with more family-based perspectives on life and may also need to take care of their own parents. They are recognising the old saying: 'It takes a village to raise a child', which means that you are not able to give your kids the amount of life skills that will turn them into adults without the help from others.
When bringing together different generations, the kids will be brought up in an environment with knowledge, storytelling and the time to go into details with things that are interesting. The kids will get a greater interest in more philosophical and historical topics, and they will have different perspectives on life. The grandparents are almost as important as the parents for the kids regarding the upbringing. This is very natural because of all the time that they spend together.
A belief that togetherness will make us stronger is the main focus in the Connected family.