Andre artikler fra denne udgave
What will be the key items in the AW 20/21 season? Which colours and prints will dominate? And from which catwalks can you look for inspiration? Read on and get an update on the AW 20/21 trends.
---
Artiklen blev bragt i TØJ nr. 2 2020.
---
Layering
Layering is key in the global warming climates we have become accustomed to. We see raincoats and all types of performance jackets in light weight fabrics used as cardigans over a girly printed shirt or pretty bow tie blouse. Or for a more casual look, we layer up on perfomance jackets with a classic crew neck sweater. Another layering key piece, which has received an unexpected importance, is the knitted vest, again layered over pretty blouses or shirts. Or for a more laissez-faire look over a sportswear branded long sleeve t-shirt. Hand knitted ones with retro geometrics are definitely key for autumn/winter 20/21. In terms of colour for performance jackets it is important to focus on artificial acidic colours, hypnotic metallics and in terms of prints look to kitsch 60s and 80s prints. We also see these colour and print trends integrating the fleece, which is another casual key item that is used as the modern cardigan.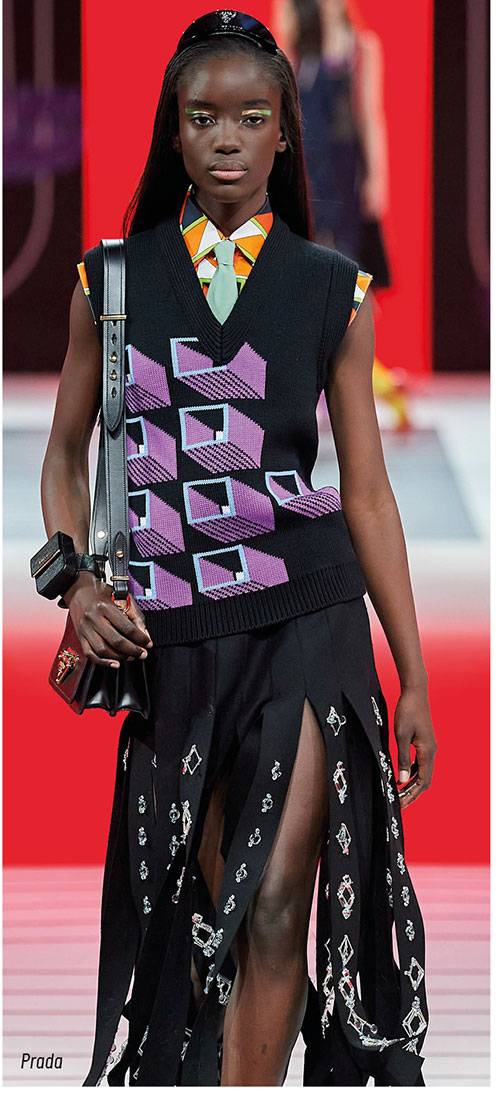 Tweed and checks, long skirts and blazers
Not newcomers, but strong players for the season, are tweeds and checks in all silhouettes and in an array of nontraditional colours to give them freshness. The look is very on point if it is done from top to toe. Think jumpsuits, catsuits, blazers and long skirt combos.
In general for the season, long skirts and buttoned down below the knee skirts are a must. Both in knitted, satin and tweed fabrics, paired with a matching cardigan and a belt to accentuate the waist. Miu Miu and Altuzarra do this fit and flare silhouette to perfection.
In terms of blazers in traditional checked fabrics, we still see these as key wardrobe styling pieces. If you dare, then go for Miu Miu's blown-up version, which is going to be one of the most influential garments in AW 20/21.

Coats
Another keycatwalk for coats of the season was JW Anderson's in London. He wanted to create a strong silhouette for the season, a piece that makes an entrance, when he looked to the winter coats. He took classic-like Donegal tweed, camel hair and black wool, blew them up into trapeze shapes and adorned them with oversized leather shawl collars, perfect for social media attention. Edwardian puff-sleeved and double-breasted torso coats with fluting bubble hemlines where also striking coats, which JW Anderson sent down the runway.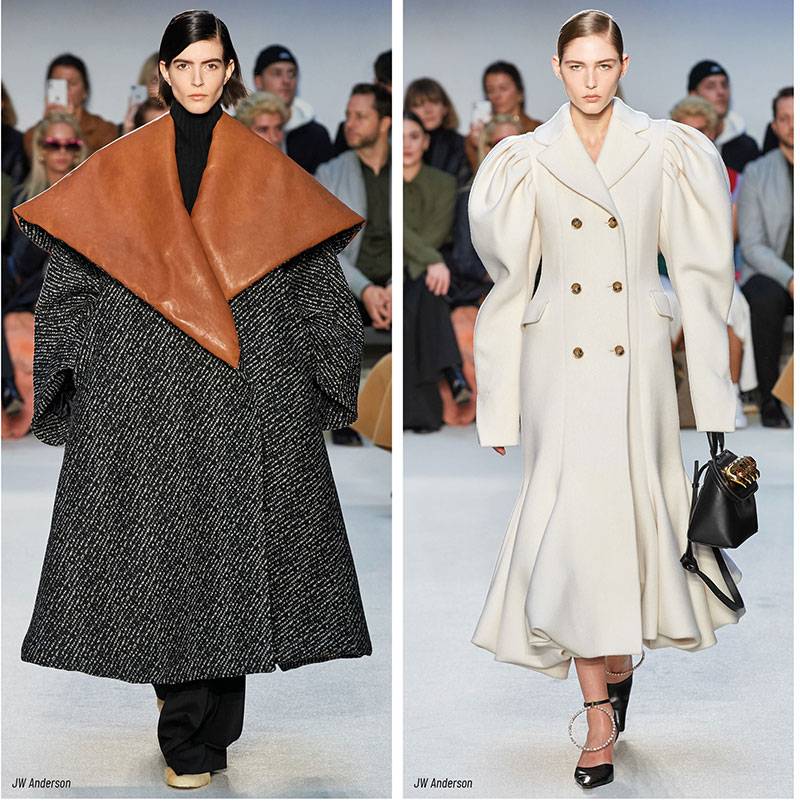 Dresses
In terms of evening, deep v plunges are important and generally longer silhouettes are coming through. Here, it is interesting to work with crinkled satin fabrics in eye popping colours. Many designers opted for deep v plunges with two pretty clasp buttons or bow closures for a demure look. We also see sheer dresses and tops with sequins and beading in the hemlines, breast area and waistlines. These are rather bare-all pieces, so they are generally styled with long classic coats, cardigans or blazers. Look to Miu Miu to get an idea of the look.

Jersey and knit
Jersey and knitted ballet or dance inspired criss cross and asymmetrical shoulders adorn several fit and flare dresses and tops for the season. Generally, in melange greys and beige colour ways. Designers such as Altuzarra and the much anticipated Jacquemus show focused on these minimal and effortless silhouettes.
The later brought back an unexpected sexiness to the catwalks in his body conscious silhouettes. Bringing us several cropped bra-like tops worn under dresses and blazers. The ultimate piece was a cropped one-button cardigan, and his midi sheath dresses cut to bring out every feminine bodily asset will also make an impact.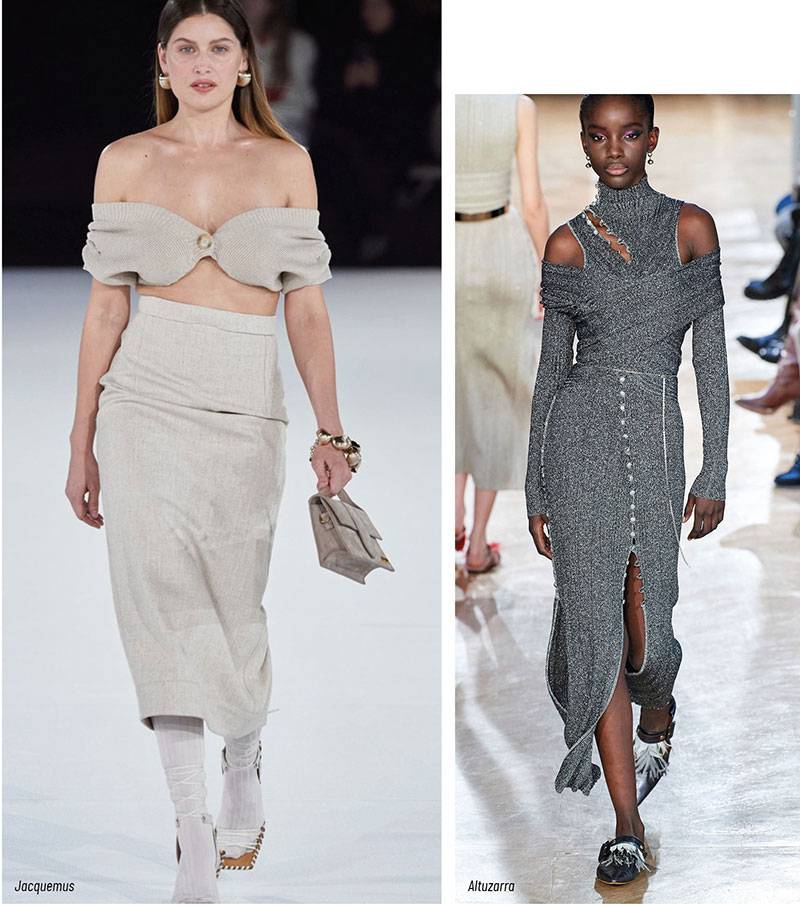 Fringes, buttons and collars
Details for the season include the return of the fringe. Look to Bottega Veneta's butter yellow fur fringed coat and must have bags. The Milan catwalks had a definite fascination with fringing this season, look also at Prada and Jil Sander for more takes on this detail.
Buttons also have an important role for autumn/winter 20/21, uplifting classic items with bejewelled brook closures, pretty clasps, bow closure with hidden button clips, or just the use of clashing white buttons on a classic black, navy or beige coat. Collars have also had a huge return, and they are vintage inspired. Super low-cut large collars with embroidered and detailed borders decorate the blouse of the season that also manifests big puff sleeves, which end at the elbow or a bit before the wrists. Ganni and Rodarte rule this trend.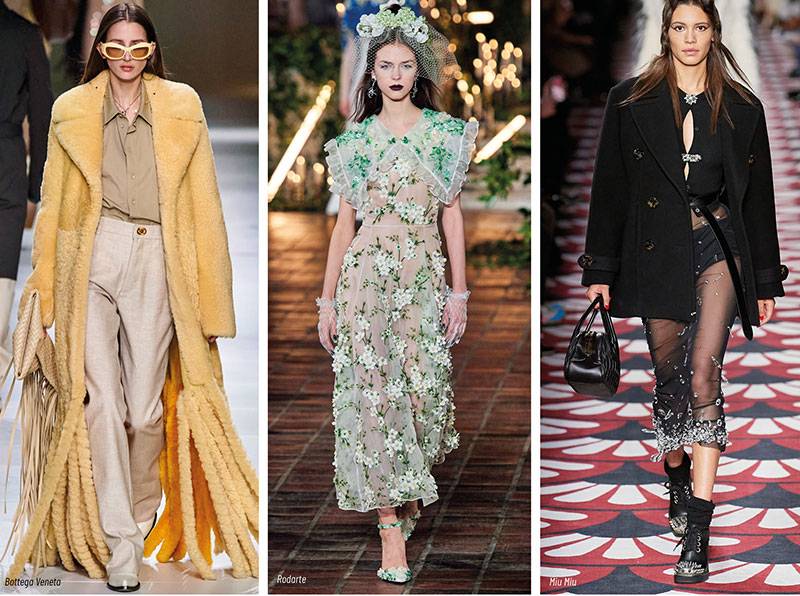 Colours and prints
When looking at colours for the season, we will be supplementing the usual array of browns, blacks, navy, dark reds and pine greens for winter with yellows, apricots and lilacs. Bottega Veneta and Chanel also showed a yellow lime green, which feels very new, but for the more avant-garde consumers. The above mentioned new colours inject newness into your staple winter palettes and create the right colour combinations in the must have seasons checks, floral and geometric prints. Get inspired by the Chinese inspired florals at Altuzarra and Japanese lotus flowered prints at Prada. And for the grand finale Monclers Genius Collection 8 by Richard Quin also made a big bang with his sci fi silhouettes in the most stunning 60s garlanded floral prints, which were a huge crowd pleaser.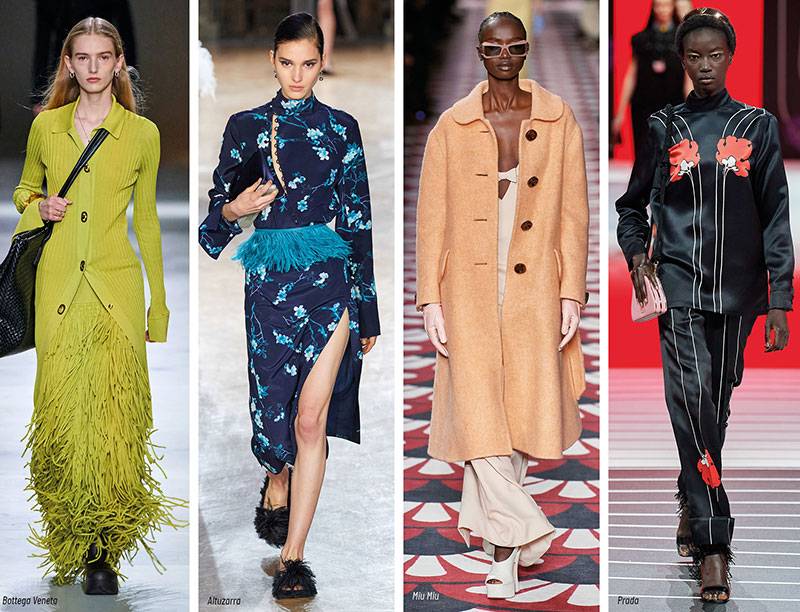 ---
Vil du læse flere artikler fra TØJ – Fashion & Business Trends nr. 2? Bladet er udgivet digitalt og tilgængeligt for alle. Læs det her.
Andre artikler fra denne udgave