Andre artikler fra denne udgave
As an alternative to big international fashion retail concept stores, some of them taking the sustainable journey by investing mostly in more sustainable fabrics and materials, we see the emerging of a parallel retail, more sustainable from the birth of the brand.
---
Artiklen blev bragt i TØJ nr. 2 2020.
---
The small sustainable fashion brands are usually 'glocal'. Many of them are first born as online sustainable brands, and after some months or years they decide to open their first physical shop locally. It makes their retail strategy a lot more holistic, circular and sustainable from the start, connecting the online universe directly to the physical shop. Small sustainable fashion brands first invest in their crowd and communities. They build their businesses mostly through social media as well as around events, custom-made services and experiences. To them, it is crucial to provide their conscious custo­mers with a set of sustainable core values, a mission and a purpose.
The sustainable physical shop must reflect those values, tell the brand story and offer easy-to-understand, aesthetic and visual information about the production process, the materials, social responsibility and so on. Transparency and truth about the level of sustainability are crucial.
Often, the small sustainable fashion brands have timeless collections, almost zero stock, producing on demand. And it makes it challenging to run a business with only a few items in the physical shop. For them to survive and grow, we see a few main and global sustainable retail trends that support more collective and holistic approaches to retail:

Sustainable markets, curated stores and ethical physical shops are definitely a sustainable retail trend. Small fashion brands share a more creative space, offering more flexibility to the brands in terms of experiences, events, workshops and expenses. Some fashion brands mix their assortments with other sustainable lifestyle products such as jewels, handcraft, skin care products, art, books, plants and so on.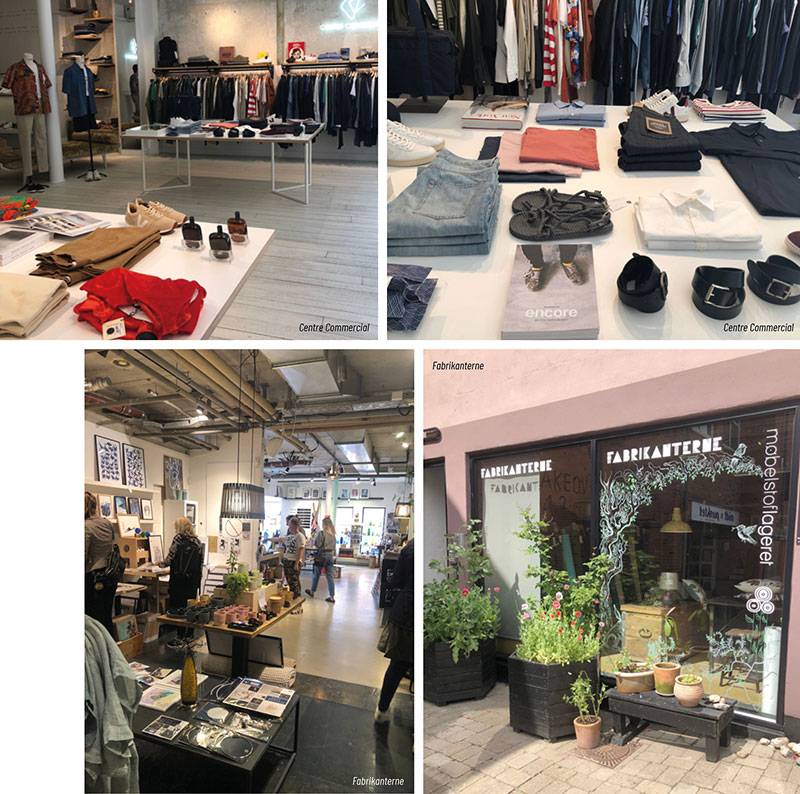 Pop-up shops are more flexible and sustainable in many aspects. An example of a pop-up shop, that took place last fall 2019 in Odense, was when the Danish sustainable knit brand Le Pirol shared a beautiful space with two other sustainable brands. Le Pirol produces and designs
all its sustainable knit garments in Denmark. The brand has a season-less approach, introducing new styles when they are ready. Le Pirol only sells online, directly to the consumer, which allows the brand to care a lot more for the environment, quality, design and price.
As Morten Underbjerg, the founder, designer and director of Le Pirol says about the pop-up shop experience:
"It is a great advantage being in the shop and meeting customers face to face. It is super interesting to meet the customers who come into the shop, it gives a lot of gold grain when they try the clothes and come with their feedback. Spending time taking care of the shop and meeting the customers is a good investment because it gives me more knowledge about my concept and business. Customers like
to meet the designers in person, and they love the stories of how the clothes are produced."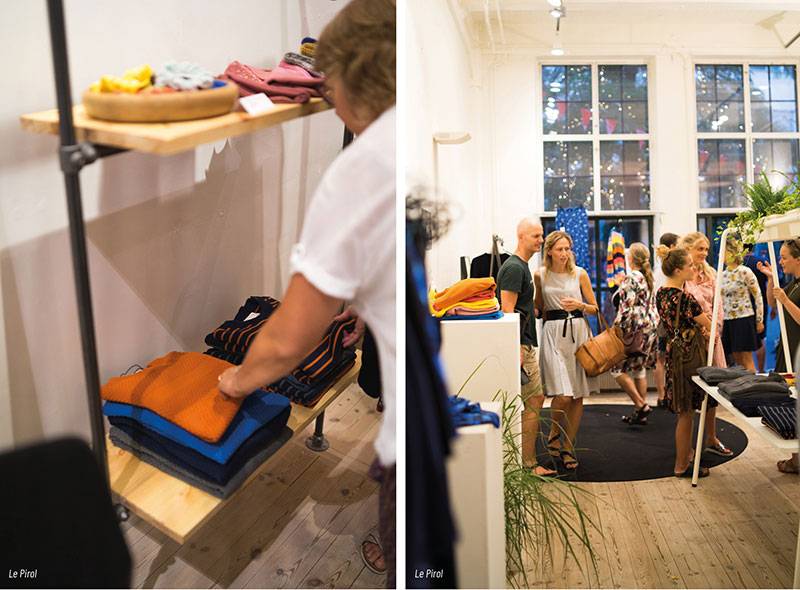 Small sustainable brands often create a physical sustainable space that is used as selling point, showroom, and design office.
I have interviewed the Danish conscious brand Schulz by Crowd that opened its first physical shop in Copenhagen in January 2020. Up until now, the brand has only been selling online. When designing the clothes, Schulz by Crowd gathers a crowd of talented designers that create timeless collections of unique pieces made of sustainable materials.
1. In what way do you think your shop is sustainable?
In all the practical stuff, we have chosen to use antique, recycled and conscious interior in the shop. We have renovated the place with respect and high-quality materials for longevity.
We wanted some displays in the shop and found these recycled plastic displays looking like graphically cut marble, as they add some coolness to the feminine look of the shop.
We have carefully chosen everything from colors to interior to fit our brand DNA and to fit the changing seasons in the collections.
Our packaging has always been recycled cardboard boxes and recycled acid free paper, but now we have added recycled paper stickers and giftwrapping. We have a minimum of waste since we reuse almost all of the cardboard boxes sent to us. This means that if you order from our webshop, you might receive a reused box with a little smiley on. We use our space as a showroom and office as well.
2. What type of events do you arrange for supporting a sustainable lifestyle?
We are planning to arrange different events now that we have a place for that. We have previously held a sustainability event with influencers where we told about our strategy. Here, they could ask questions and we could hear about their challenges. We are planning more of these events – also for our customers. We would like to have styling events and other things as well.
3. What challenges are you experiencing when going from an online shop to a sustainable physical shop?
Having a physical shop means that you have to be there in the opening hours, no more meeting outside for the both of us at the same time. There is also more planning between us and less 'freedom'. But meeting the customers face to face as being able to talk to them makes up for it all.
4. What are your conscious customers expecting from your shop?
Our customers expect knowledge and explanation, and they ask us questions like "what is this?", "how is it made?", "by whom?", etc., which we love to answer. Many customers also expect a talk with us about sustainability in general and about our thoughts and ideas. When entering our shop, you enter our universe, we love telling about our crowd of designers and our sustainability strategies.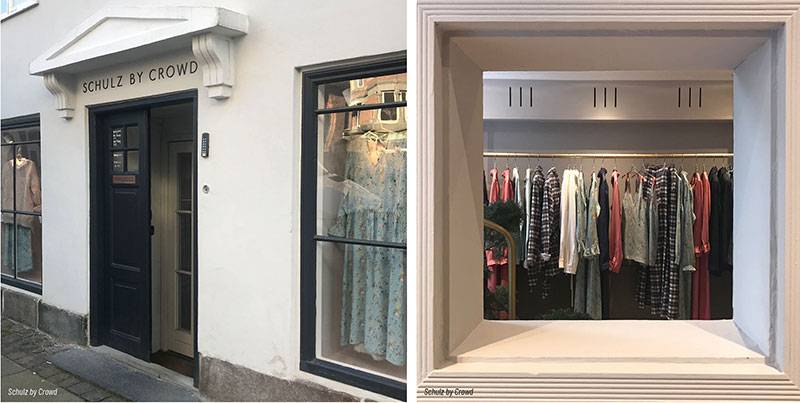 ---
Vil du læse flere artikler fra TØJ – Fashion & Business Trends nr. 2? Bladet er udgivet digitalt og tilgængeligt for alle. Læs det her.
Andre artikler fra denne udgave